Karl Dorrell just wants to get through the spring relatively healthy, especially at the wide receiver position.
With just three scholarship receivers available for Colorado's first of two public scrimmages this spring, it was hard not to notice the two outside wide receivers.
Senior Daniel Arias and sophomore Montana Lemonious-Craig shone in two very different ways.
Lemonious-Craig had a toe-tap catch along the sidelines early in the afternoon and then was able to get free across the middle for a third down conversion later on. Arias made a tough catch over cornerback Nikko Reed for a long gain down the sideline that put the offense inside the 5 yard line.
"A guy with his size and speed, you would hope that when he gets a chance to get one-on-one coverage, we're expecting him to win those battles," Dorrell said. "He's doing the things that we expect him to do."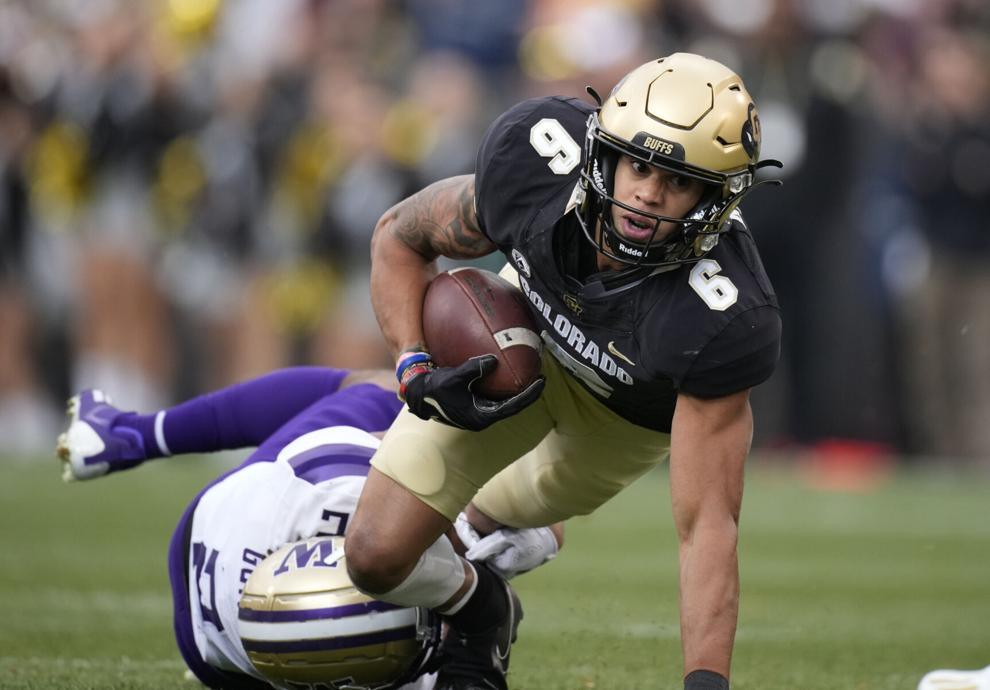 There's still a looming quarterback competition between returning starter Brendon Lewis and the still rehabbing J.T. Shrout coming this summer. Whoever the quarterback ends up being on Sept. 2 knows they'll have two different skilled wide receivers on the outside.
"I think that'll be a great 1-2 punch," Lemonious-Craig said following Saturday's scrimmage. "All the wide receivers bring different things to the table, but I feel like that 1-2 punch could be pretty good. Daniel can take the top off [the defense] I can maneuver [over the middle]. So we'll be able to really stretch defenses and stress them out."
There's a lot of attention on the wide receivers room this spring, and for good reasons. Two starters from last year transferred — Dimitri Stanley left for Iowa State and Brenden Rice took his talents to USC. There's also a new coach in charge of the group as Phil McGeoghan replaced Darrin Chiaverini, who was fired as offensive coordinator and wide receivers coach after last season's major struggles on offense.
Arias is the one starter returning. And with the addition of Baylor transfer R.J. Sneed, there's at least two veterans that could be reliable weapons on offense. Then it's a bunch of young players — some who are entering their third year with the program, some entering their second and some who won't even arrive until the summer.
Lemonious-Craig is the leader of that group and he's aiming to be the third starter when the fall rolls around. But there's also players like Chase Penry and Ty Robinson who saw some limited action last season and others like Boulder native Grant Page, who flipped his commitment from Nebraska to CU on signing day in December.
"I've taken on a leadership role in the room," Lemonious-Craig said. "I feel like it's a responsibility going into my third year here, even though I am a young guy. I feel like with the team expanding my role, I need to step up to the plate and be more of a guy that some of the young guys can lean on."
The southern California native was one of just two players with multiple receiving touchdowns last season and with Mike Sanford's new offense showing potential, Lemonious-Craig could be much improved in 2022.
"That's what we're counting on and that's what he's counting on when you talk to him, too," Dorrell said. "He's expecting to up his game this year and he made a couple nice catches today. He's on track."
With Penry, Robinson and Page tstanding on the sidelines during Saturday's scrimmage, Dorrell is hoping to get through the final eight practices without adding to that injury total in the wide receiver room. But that room has grown close throughout the offseason as players have come and gone and a new coach was put in charge. The expectations, though, haven't changed.
"I'm loving the energy, the new camaraderie with the coaches, the new players we added and the guys that stayed," Lemonious-Craig said. "Within the wide receiver room, we have great character. You have to be a dog to come play wide receiver. Everybody's hungry, everybody wants to make plays and the talent is there."