DENVER • On a Saturday night that the DU Pioneers made hockey history, a couple of Canadians were thinking back to a lake in Alberta. It's Wabamun Lake, maybe 50 minutes outside Edmonton.
It's where Frozen Four heroes Mike Benning and Carter Savoie spent their summer days waterskiing and wake-surfing as BFF.
Denver tied the NCAA record with its ninth men's hockey championship in a 5-1 win over Minnesota State at TD Garden in Boston. Only Michigan has as many titles, so the Pios can come home to not buy beers at the Stadium Inn and brag there's no better hockey program.
The Pios will be telling the truth. Add 2022 to 1958, 1960, 1961, 1968, 1969, 2004, 2005 and 2017, and throw in some juicy context for good measure: The Pioneers were coming off a season in which they missed the NCAA Tournament altogether, the first time for that in 14 years.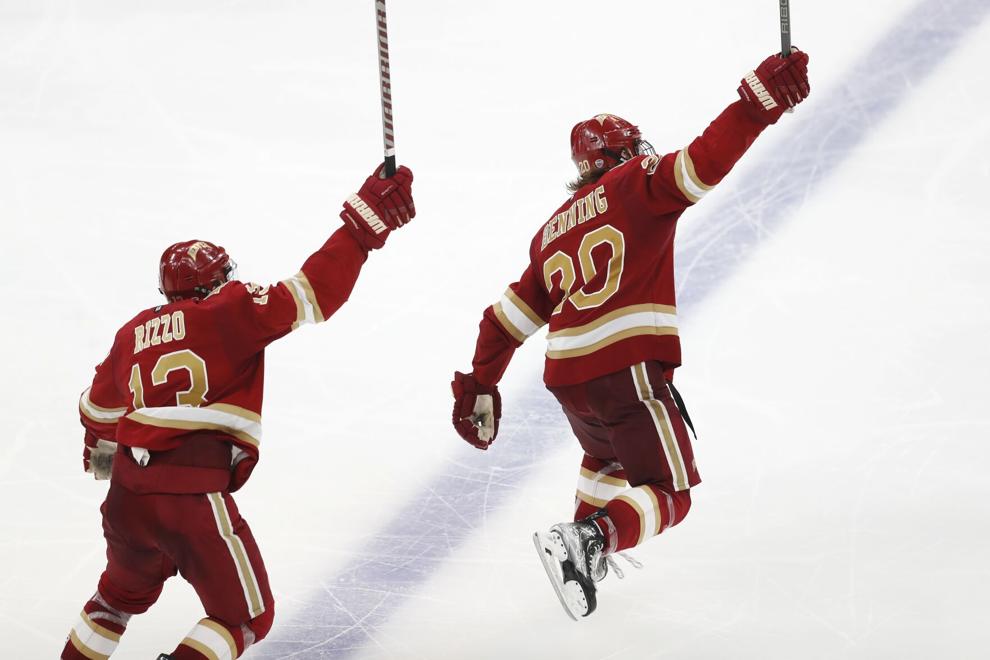 You don't keep Alabama football, Stanford women's hoops or DU hockey down for long.
"They stayed in the moment the whole time," said David Carle, the 32-year-old Pioneers coach, who someday will add a Stanley Cup coaching title to his NCAA title resume. Book it.
The Pios scored all five goals in the third period — from five different players. Twelve NHL draft picks attached the spigot to the Charles River. That's the macro. Here's the micro: Benning and Savoie, who just lived out a Pee Wee hockey player's dream. Shoot, they've been teammates for the past 13 years ("Except for one," Benning told me). Imagine the poor kids on the other bench who had to deal with them at 9 years old.
Benning crushed the Frozen Four with three assists and the title-winning goal, a score with 12:27 left that seemed to suck the spirit out of a stubborn squad from Minnesota State. And Savoie, his roommate, scored in three of four NCAA Tournament games.
Wait, it gets better:
"Sav" and Benning are not blood relatives but might as well be. They're 20 years old and began playing hockey together when they were 7. Both have a brother named Matt. Savoie, Benning and "the two Matts" (Matt Benning plays for the Nashville Predators) spend summer days on Wabamun, where one of the two Matts has a lake lot. Their parents stay back for card games. Their dads coached the boys together. Their moms are in the same book club.
"I haven't ever been apart from him," Benning says of Savoie. "It's like a relationship."
It's like "Superbad."
"We live together, too," Savoie says. "And we lived in the dorms together."
How did DU hockey build the No. 1 (or t-1) college hockey program in America? Well, one reason is the bond. Pios alums flock back every summer to beat up on the college kids in competitive skates at Magness Arena. And you can bet that tradition will continue with Benning and Savoie, who can use the pilgrimage as an excuse to reunite with each other.
Both are NHL draft picks — Benning to the Florida Panthers, Savoie with the hometown Oilers. (You won't be surprised to learn they were drafted five picks apart.) On the night they were drafted, Benning learned his fate while Facetime-ing with friends. Savoie was on the ice at practice, unaware.
"I got even more fired up when he was drafted (than when I was drafted)," Benning told me.
And isn't that why DU hockey has risen above the rest? You saw the same thing with Danny Manning and Paul Pierce courtside for Kansas basketball at the men's basketball Final Four. There's a bond within the elite programs that's tighter than anything you would see in the pros.
The other day at Magness, I asked Benning what he loves about this squad, and the first part of his answer was, "We only lost one game at home."
"And we outplayed them," Benning said.
DU hockey protects DU hockey. Boy, they are really going to hate this in Colorado Springs.
Minnesota State didn't allow Denver to score in the first two periods. With Hobey Baker winner Dryden McKay in goal, the Mavericks were a vice. Then the third period was as if Peter McNab, Will Butcher and Matt Carle (David's big bro) laced 'em up in their Pios prime. Wow. 
National title game, five straight goals. Two "Superbad" buddies. One DU atop college hockey.